** Self Diagnosed with Celiac Disease - Blogging my Gluten free Journey **
One Month in the Gluten free trenches.
Slowly getting my energy back. Felt really toxic from the second week on. I finally got desperate and googled some ways to detox my body.
Green teas - mint, chamomile, cinnamon were my daily by the gallon choices
Epsalt salt baths - with baking soda added one day, raw sliced ginger another day, and real lavender essential oil on the third day
Essential oil rub - olive oil with a few drops of peppermint oil, lavender oil & chamomile oil. Rubbed over my abdomen at night before bed and again when I got up. (I thought it was a bit silly but I actually was less achy after the first night.)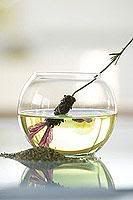 I really noticed the difference
after the baths, teas and abdomen oil rub.
I took some alfalfa in capsule form and when I didn't feel sick from it I took a little more the next day. Sometimes certain vitamins still really bother my grain-mangled guts. The toxic feeling started leaving and I actually was able to get some decent sleep for a few days.
The last few days my guts are starting to calm down and the random pains are lessening. I am determined to just go one day at a time.
What I ate this week:
Got some Udi's gluten free bread - Yummy
made toast one day and a peanut butter and jelly the next - pretty good
Made homemade spinach dip - SO DELICIOUS!! I loaded it with tons of green veggies and am sad cause it's all gone. It's the best thing I ate all week. Used almond crackers or corn tortilla chips for dipping.
Betty Crocker GF brownie mix - fudgie goodness. I got teary-eyed after the first bite. Even my hubby liked it.
Homemade cornbread - It was tasty but turned hard as a brick after a day. Will adjust the recipe.
I am hungry so I am off to whip up some gluten free goodness. I am anxious about the upcoming holidays and my ability to partake. Need to be patient and prepared.
I'd love to thank my mom this week for the cheerleading and dragging my sorry behind to the health food store. Mom, you are great company and I am glad we are in this together!
Leah Banicki
Gluten free since 10-8-10